The show opens with a recap of Stone Cold Steve Austin losing his WWF title, Vince McMahon's celebrating and Austin's multiple sneak attacks on McMahon. They also keep playing clips of McMahon saying "There will be no rematch" and Austin saying "I ain't through with ya, Vince, not by a long shot" over and over again.

Backstage, the gate is down to drive inside the arena and someone is honking trying to get in. It's McMahon, who is driving himself in a fancy car to the arena tonight in Long Island. The gate goes up, McMahon drives in and yells at the gate operator. Commission Slaughter, Gerald Brisco and Pat Patterson held McMahon climb out of the car and into a wheelchair. He wants the gate left up so Stone Cold can get into the arena. McMahon invited Austin to the arena tonight, and he wants to make sure Stone Cold can get in easily.


Tag Team Champions The New Age Outlaws (Bad Ass Billy Gunn & Road Dogg Jesse James) vs. LoD 2000 (Animal & Droz with Hawk) (for the titles)

Hawk is back after his drinking problems kept him away for a while. He joins Jim Ross and Jerry "The King" Lawler at the announcers' table for this one. He says he's healthy, sober and doing the best he can. JR asks what the issue was and Hawk says he got hooked on pain pills. He adds that Animal said it'd be best for Hawk to be an alternate on the team right now.


King wants to know when Hawk will get back in the ring and JR says this Sunday at Judgement Day Hawk, Animal and Droz will take on the Disciples of Apocalypse and Paul Ellering in a six-man tag. Speaking of those three, they run and ambush Hawk at the announcers' table and just gang up on him.


Droz and Animal leave the ring to get help Hawk and I still haven't heard a bell, so I guess the match isn't technically over. The Headbangers run out and into the ring, and hit Road Dogg in the head with a boombox.


The Headbangers will fight the Outlaws at Judgement Day for the titles. They run back up the ramp and about five referees run out to break up the DoA/LoD brawl at ringside. Apparently getting hit with a boombox can be painful.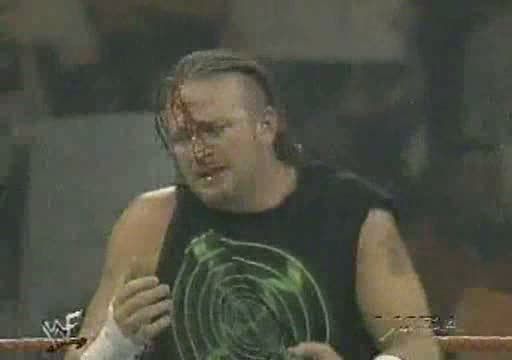 The McMahon-Austin feud has apparently carried over the entire WWF, according to JR, as McMahon returned to work late last week and has been furious. He stripped Triple H of his Intercontinental belt, as Helmsley has been hurt for some time and hasn't been able to defend it. JR says a new Intercontinental Champion will be crowned tonight, as McMahon set up a one-night tournament to crown a new champ, but hasn't announced who is in the tournament yet. McMahon is backstage resting up and pointing.


Steve Blackman is back early from knee surgery, ordered by McMahon to return so he can participate in the Intercontinental Championship tournament.

Steve Blackman vs. Ken Shamrock (Intercontinental Championship tournament first round match)

Shamrock attacks immediately, catching Blackman in a powerslam. Shamrock gets right to work, attacking that injured right knee of Blackman. Blackman is limping around, but takes a slight advantage by reversing and Irish whip and throwing Shamrock into the corner. Shamrock charges Blackman, who connects with a clothesline. Blackman walks over to Shamrock and stands over him, but Shamrock rolls him up into a submission hold, putting a ton of pressure on that already injured knee. Blackman taps out.


A masked man with a sparkly blue cape runs in the ring and hits Shamrock with a spinning heel kick. He kicks Blackman, who was already down, a few times and leaves the ring.


JR asks if that's the Blue Blazer, but says it can't be. Whoever he is, he has a red bird on his cape.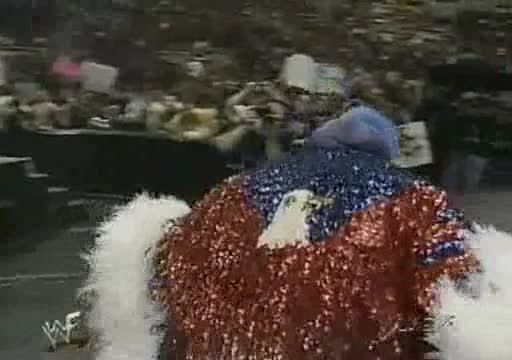 Shamrock doesn't know what to do, so he puts an ankle lock on Blackman.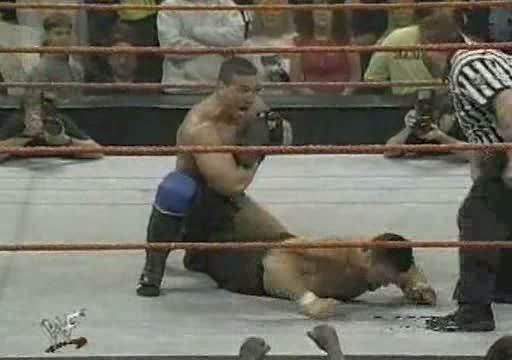 And yells.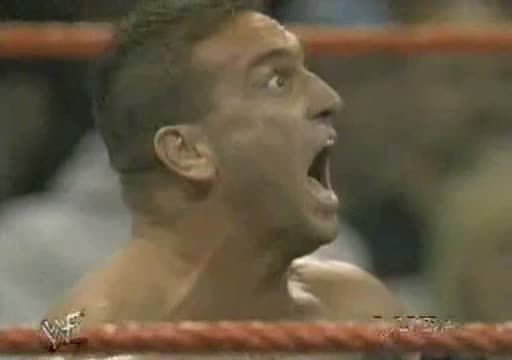 The ref tells him to stop, and Shamrock yells at the ref to get out of his way. The ref calls in some other refs, so Shamrock drops Blackman's leg and threatens them. They leave. Shamrock yells some more.

Val Venis (with Terri Runnels) vs. Marc Mero (with Jacqueline) (Intercontinental Championship tournament first round match)

The two trade drop toe holds early on and Mero ducks under two attempted clotheslines by Venis. Venis catches a running Mero in a powerslam and covers, but Mero kicks out. Not at all creepy, but Jacqueline is wearing her hair in a long ponytail with the hair she ripped off of Sable's head tied into it.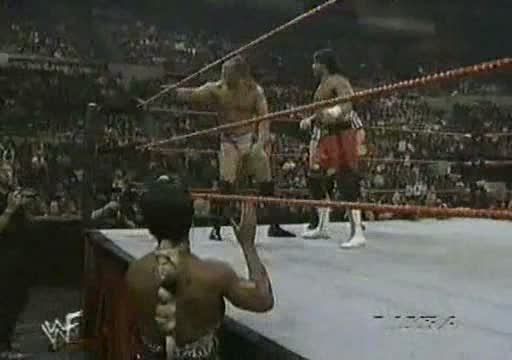 Mero drops Mero and goes to head out of the ring to climb up top. Terri stops him, and for some reason, he doesn't just try another corner. Venis walks up behind him and connects on a fisherman's suplex into a cover for the win. Jacqueline runs up and attacks Terri outside of the ring.


The two wrestlers and some refs break it up. Mero and Jacqueline walk up the ramp while Venis consoles Terri. It's way way way sexy.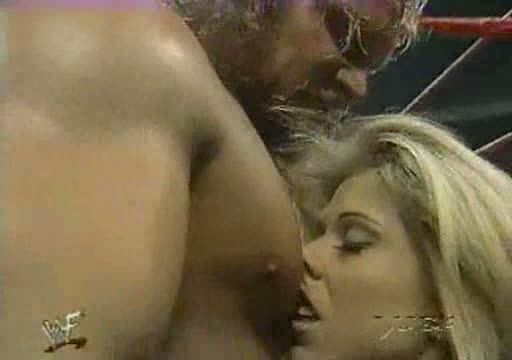 Here's an updated bracket for tonight's tournament, apparently.


Backstage, Paul Bearer arrives with a briefcase. Also, Michael Cole is with Sable, who was on "Pacific Blue" last night. Cole says Sable was great! He asks if she's going to leave the WWF to act full time and Sable says of course not. She wants to become the WWF Women's Champion. She walks across a hall, into a dressing room and drags Jacqueline out. Sable drags Jacqueline out next to the ramp and they brawl. A bunch of dudes break it up.


Long Island's own Mankind is up next, but first they run a clip of him speaking to Cole earlier tonight. Mankind will fight Shamrock at Judgement Day after Shamrock hit Mankind in the head with a chair recently. It didn't hurt Mankind, Mankind says. Actually, it was the weakest chair shot Mankind's ever taken. Also, he has one word for Shamrock, "Socko!"


Mankind vs. Mark Henry (Intercontinental Championship first round match)

As soon as this one starts, Chyna walks out. Depending on which side of a certain lawsuit you're on, Chyna is either Henry's girlfriend or the woman who is being sued by Henry for sexual harassment for refusing to be his girlfriend. Meanwhile, in the ring, Henry if tossing Mankind around like it's nothing. He climbs to the middle rope and goes for a big splash, but Mankind rolls away.


Mankind ducks under a clothesline, kicks Henry in the stomach and lands a double arm DDT. Mankind takes off his left shoe, takes off his sock and puts it on his arm. It's Mr. Socko!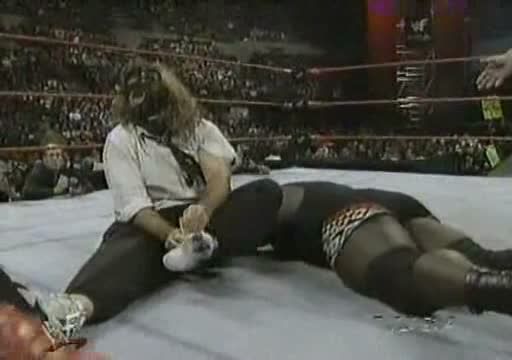 He locks in the Mandible Claw and the ref calls it as Henry possibly passes out.


Chyna gets in the ring and while we can't hear her, it looks like she asks him why he's suing her. Henry yells something and walks away.

Backstage, a cement truck pulls into the parking lot.


It's Stone Cold!

Backstage, McMahon is confused and angry.

Jeff Jarrett vs. X-Pac (Intercontinental Championship tournament first round match)

If you remember, these two have fought before, most notable in a hair vs. hair match, in which X-Pac won and shaved Jarrett. Jarrett certainly remembers, as he attacks X-Pac before this one officially starts. Jarrett gets a few shots in, but X-Pac turns things around by ducking under a clothesline and hitting one of his own.

X-Pac climbs to the top rope, Jarrett climbs up there with him and they trade blows. X-Pac knocks him off and goes for a flip, but Jarrett rolls away.


Jarrett goes for a figure four, but X-Pac counters with a rollup cover. X-Pac kicks out. X-Pac toss Jarrett in the corner and kicks him a few times, even jumping up on the middle rope for one last kick. When X-Pac jumps off the ropes, he accidentally elbows the ref. X-Pac goes for a bronco buster, but Jarrett sticks up his right leg and drives it into X-Pac's testicles. King yells that it's the greatest thing he's ever seen.


Jarrett rolls out of the ring and reaches under the ring, pulling out his guitar case. He brings his case in the ring, opens it and pulls out… what?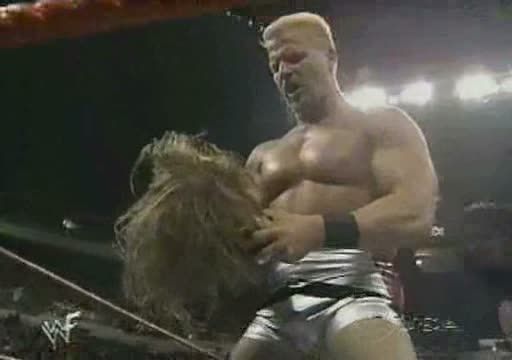 It's Head! X-Pac sneaks up behind Jarrett and scores a rollup pin for the victory! Al Snow runs in the ring, grabs Head and slides out! Al Snow is really happy.


Backstage, Austin drives his cement truck up to McMahon's Corvette and McMahon is not happy.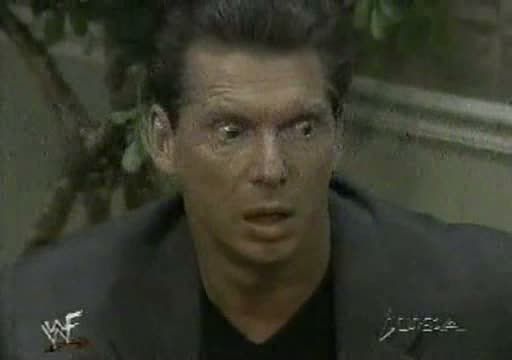 Austin starts filling McMahon's car with cement!

 
Turns out, a Corvette can only hold a certain amount of cement, even if it's a convertible.


Austin leaves the truck on and walks away, so it keeps pouring cement into McMahon's car as Austin makes his way to the ring. After a break, Austin gets in the ring and grabs a mic.
Austin: "First off, I'd like Mr. McMahon for the invitation here tonight. Now, I'll apologize to ya because there must've been some mistake in the address that went to Austin 3:16 construction company. See, what you did, Vince, when you screwed Stone Cold Steve Austin, hell son, it's easy to see that you cemented your own damn fate because you can rest assured that Stone Cold Steve Austin, as long he's here in the World Wrestling Federation and as long as you're here too, I will make your life a living hell and that's all I got to say about that. As far as this Sunday goes, Stone Cold Steve Austin special referee, hell, I'll be glad to put the stripped shirt on because I think I'd make a damn good referee for this match. If you think Stone Cold Steve Austin would make a damn good referee, gimme a hell yeah. [Crowd gives him a hell yeah] I'll tell you this, after those two bastards beat the living hell out of each other, you can bet your ass the only hand Stone Cold Steve Austin is gonna hold up is my own. And the thing about it, Vince, is there ain't a damn thing you can do about it. [Vince wheels himself out to the top of the ramp] Go ahead and wheel your little ass down here."
A large masked man walks out behind McMahon and Austin walks up the ramp to them. Two officers with K-9 police dogs walk out as well.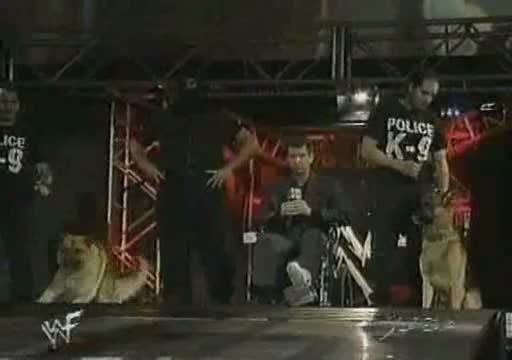 McMahon: "I hope you're real proud. What gives you the right to destroy other people's property? What gives you the right to pour concrete in one of my Corvettes? That was part of a collection, and now you've ruined it. I just hope that the Stone Cold Steve Austin construction company gives you a pair of boots, because you're gonna need them tonight, let me tell you that. You're gonna need them because you're gonna be wrestling in that ring tonight. Yeah, but you're not gonna be wrestling by yourself. Oh no, I've got a partner picked out for you. The so-called People's Champion, The Rock. Yeah, that's the good news, if there is any good news. The bad news is that you and the Rock will be facing two individuals that I hope annihilate each other this weekend. You'll be facing the Undertaker and Kane. I also hope that the Austin 3:16 construction company is gonna provide you with a real good rearview mirror because I think sometime tonight you're gonna have to have eyes in the back of your head. I think of all I've been through these last two weeks, and I admit, my life has been a living hell. I admit. [A very loud "asshole" chant breaks out in the crowd] What the hell's the matter with you people?"
Austin: "I don't know how good your hearing is, but about 15,000 people are calling you an asshole."
McMahon: "Over the last two weeks, it all started after you lost the WWF title and you recklessly and carelessly drove that Zamboni at full speed into the arena. You didn't care who you ran over as long as you got to me. And then from there, you got to me all right. And after you did, and because of you, the Undertaker and Kane crushed my ankle. It's crushed. I may never ever again play another polo match. I may again ride a horse ever. I may never again compete in an athletic event, and I hold you responsible. And then in the hospital last week, my god, my head is still ringing from being struck in the cranium by that thick metal bed pan. My nervous system is still in shock over that defibrillation. And my rectal area, when you stuck, you violated me, Austin. You violated me! That damn open hospital gown. Let me tell you something, as much humiliation as I've suffered, you're gonna suffer more and I'll tell you where and I'll tell you when. It's gonna be this Sunday, and it'll be in Chicago. And let me tell you something, if you don't raise the hand of the new World Wrestling Federation champion and humble yourself before me, then read my lips: I promise you, I guarantee you, Austin, if you don't raise the hand of a new WWF champion, then this Sunday on the spot, I will fire your ass."
Austin: "You stupid bastard, you ain't got the balls to fire Stone Cold Steve Austin."
McMahon: "I don't have the balls? I've got balls the size of grapefruits, and this Sunday you're gonna be picking the seeds out of your teeth because, Austin, you will be humbled, I guarantee it, one way or the other: the easy way, you raise the hand of a champion, the hard way, I publicly, I guarantee, I will fire your ass this Sunday!"
Ho. Lee. Shit!!!!! I don't even know where to begin with all that. That's fucking amazing. Everything is great!

Val Venis walks out for his semifinal match in the intercontinental title tournament. The fans are really taking to Val and creating some great signs in his honor.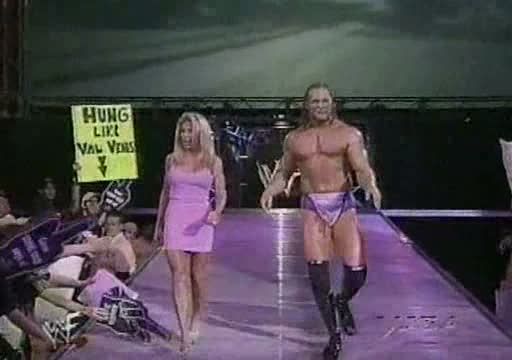 Anyway, Shamrock runs out and attacks Venis before the match officially starts.
Shamrock beats down Venis at the bottom of the ramp a bit and Venis fights back slightly. He tries to whip Shamrock, who counters by whipping Venis into the steel steps. He slams Venis' head onto the steps and rolls him in the ring to officially start this one up.

Val Venis (with Terri Runnels) vs. Ken Shamrock (Intercontinental Championship tournament semifinal match)

Shamrock scoop slams Venis in the ring and kicks him around a bit. Shamrock hits a snap suplex into a cover, but Venis kicks out. Shamrock locks a Boston crab on Venis, presumably not the first time Venis has faced some sort of crab. Venis tries to crawl to the rope, but right before he can reach it, Shamrock walks him back to the center of the ring. Venis again crawls toward the rope and finally grabs it.

Venis turns things around and connects with a few elbows to Shamrock's face. Venis whips Shamrock against the ropes, and Shamrock ducks under a clothesline and dives at Venis' ankle, dropping him to the mat, Venis grabs his ankle and rolls around. Shamrock puts him in a ankle lock and Venis taps pretty quickly.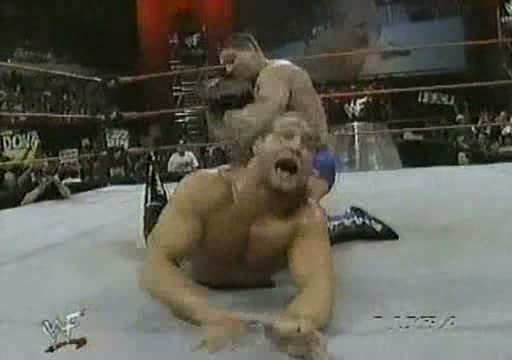 Terri gets in the ring to check on Venis and Goldust's music hits. He walks out! Terri leaves the ring and Venis scoots into a corner. Goldust humps all the air and undresses!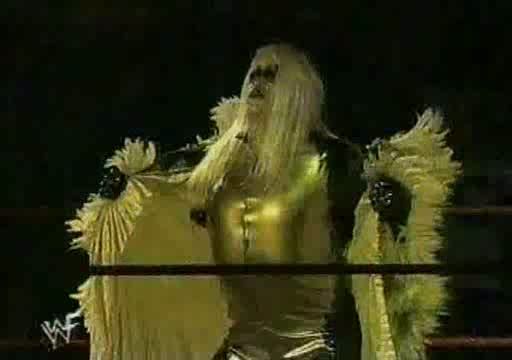 He attacks Venis, lifts him up and sits him down on the middle rope. He places Venis' legs outside of the ropes, leaving Val rather open and exposed. Goldust runs up and kicks Val square in the nuts!


He's really back! This must be what Easter is supposed to feel like.

After a break, McMahon and his buddies are backstage surveying the damage.


Mankind walks up and says maybe McMahon can still sell it. It's pretty great that he's sort of part of McMahon's entourage at this point. Slaughter says there's a briefcase in there somewhere, so Mankind says he'll dig through the still wet cement.
He does and doesn't find anything. He says he'll give it another go, and does. Mankind yells that he's found something, but not what. The show cuts to the Rock backstage at the interview area.

Rock says he's beaten Kane and Undertaker before and the only problem he has with tonight's main event is being partners with Stone Cold. D'Lo Brown and Mark Henry walk up, and D'Lo asks if Rock is too good for them now that he's teaming with Stone Cold. Rock tells them they'll go talk about it elsewhere.

Mankind vs. X-Pac (Intercontinental Championship tournament semifinal)

Mankind suplexes X-Pac early in this one and tosses him out of the ring. Mankind slams X-Pac's face into the steel steps. He grabs a chair, gets back in the ring and the ref gets between Mankind and X-Pac.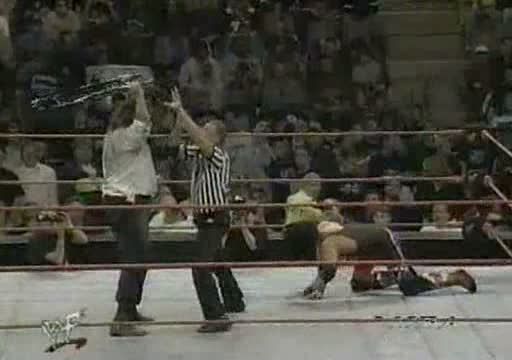 Mankind drops the chair and the ref tosses it out of the ring. Mankind connects with a knee to X-Pac's face, knocking X-Pac out of the ring. Mankind slides out of the ring and hits X-Pac with a swinging neckbreaker. Shamrock walks down to the ring. He watches for a bit as Mankind rolls X-Pac back in the ring. While the ref's back is turned, Shamrock hits Mankind's left leg with the chair.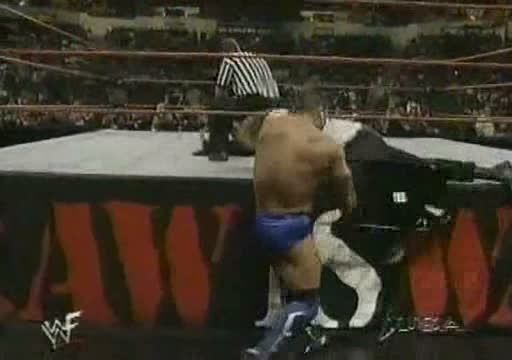 X-Pac rolls Mankind up in a cover and steals another win.

Shamrock gets in the ring and hits X-Pac with a belly-to-belly suplex. Shamrock puts X-Pac in a headscissors submission hold. A few refs run in to try and break it up. Mankind wants to get back in there, but Patterson tells him Mankind wants him in the back. Shamrock lets go, but X-Pac is hurt. After a break, Triple H is down at ringside to check on his buddy.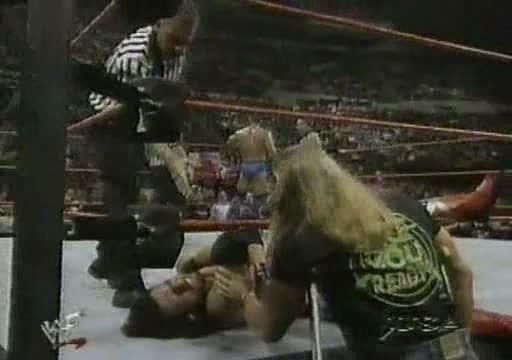 Ken Shamrock vs. X-Pac (Intercontinental Championship tournament final)

The match starts with X-Pac still lying on the mat. Shamrock runs over and kicks X-Pac a bunch. Shamrock lifts X-Pac up and DDTs him. Triple H joins the broadcast team. He says X-Pac is the most resilient guy in the WWF and he's faced obstacles before. Triple H says McMahon didn't even call to tell him he was stripping the intercontinental belt from Helmsley.

X-Pac fights back with a spinning heel kick and a bronco buster. Shamrock puts X-Pac in an ankle lock and X-Pac crawls to the ropes. Shamrock lets go, drags X-Pac back to the center of the ring and puts him back in the ankle lock. X-Pac starts to crawl, but Shamrock drags him to the center of the ring once more, and X-Pac taps. Shamrock is the new intercontinental champion.

Mankind comes out of nowhere and slides in the ring with a chair. Shamrock leaves.

Undertaker and Kane vs. Stone Cold Steve Austin and The Rock

So, hey, everyone in this match hates his teammate. See? They're all glaring at each other.


The bell sounds and all four men fight. Austin knocks Kane out of the ring. Austin and the Rock whip Undertaker against the ropes and double elbow smash him in the face. Austin and Rock look at each other and Rock leaves, so Austin can start as the legal man. Paul Bearer walks to the ring and stands at the bottom of the ramp. Undertaker asks Kane why Bearer is here, but Kane's back to not talking anymore so he doesn't answer. Bearer, meanwhile, is watching like he fucking owns the place.


Austin tags in Rock and holds Undertaker, so Rock can get a right hook in. Rock sets Undertaker up for a People's Elbow. Right as Rock swings his leg over Undertaker's body, Undertaker sits up.


Rock kicks him back down and drops the elbow anyway. He covers and Kane breaks it up. Rock sets Undertaker for a Rock Bottom and Kane gets in the ring. Rock drops Undertaker to walk toward Kane, who gets back out of the ring. Rock turns around and walks into a chokeslam by Undertaker.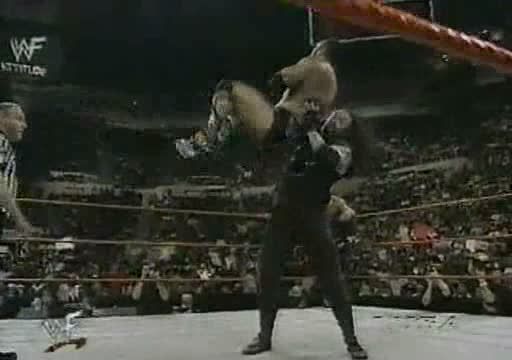 Undertaker tags in Kane and he beats on the Rock for a bit. D'Lo and Mark Henry walk to ringside and Kane tags back in Undertaker. He continues the beatdown and tags out quickly. Kane scoop slams Rock and elbow drops him. He covers, but Austin breaks it up. Rock ducks under a clothesline and DDTs Kane. The fight continues for a bit, with Kane and Undertaker tagging in and out, each isolating Rock and not letting him tag out. Kane locks Rock in a sleeper hold of sorts.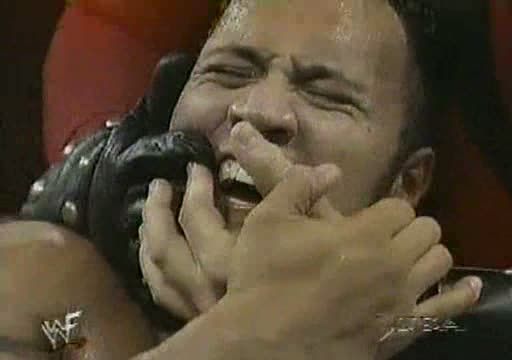 Rock fights back to his feet and lands a samoan drop, and both men stay down. Eventually, they each crawl to their respective corner and tag out. Austin and Undertaker run at each other and Austin lands the first shot. He punches Undertaker a few times and clotheslines him out of the ring. D'Lo and Mark Henry rip Rock off the ring apron and attack him! Henry lands a massive body splash onto Rock.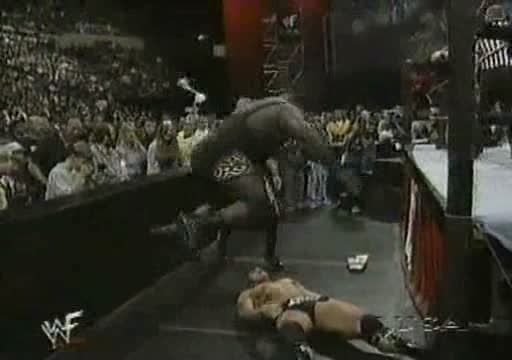 Undertaker gets back in the ring and big boots Austin. Austin falls back into the ropes and gets tied up. Undertaker lands a big punches to a defenseless Austin. Stone Cold squirms free and fights off Undertaker. Austin hits Undertaker with a Lou Thesz Press. Kane gets in the ring and Austin fights him off for a bit. That masked man who was with McMahon earlier runs in the ring and hits Austin with a fucking nightstick! He takes off the mask and it's the Big Boss Man!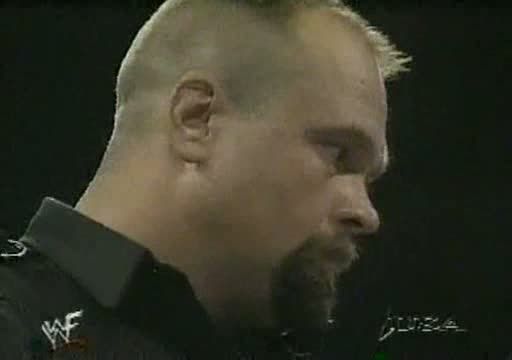 The ref disqualifies Undertaker and Kane. They don't seem to care, as they continue to pummel Austin. Undertaker locks up Austin's left knee while Kane kicks Stone Cold a bunch.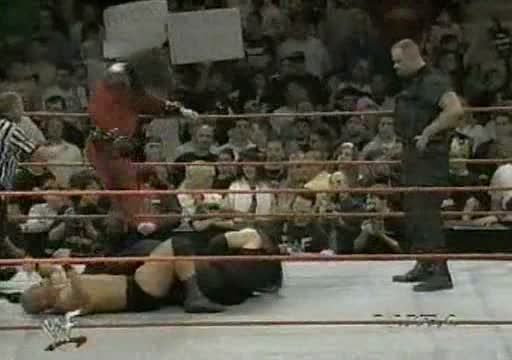 McMahon watches from the top of the ramp with a big smile on his face.